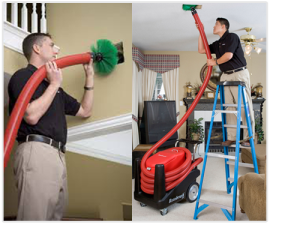 Maintaining a clean heating, ventilation and air conditioning system in your home is important in keeping your family safe and healthy. Dirty systems are usually breeding grounds for harmful contaminants such as mold, bacteria and fungi and this can cause allergies and respiratory problems. In addition, dirty ductwork significantly lowers the efficiency of your HVAC system.
AC Repair Palm Beach Gardens is a reputable HVAC company in Palm Beach Gardens, Florida that offers excellent heating, ventilation and air conditioning services including duct cleaning. Our NADCA certified air duct cleaners will do a thorough job in your home leaving it sparklingly clean and safe for you and your family.
Benefits of Professional Duct Cleaning Services
Asthma, allergies and other respiratory illnesses are mainly caused by contaminants in your indoor space. Having duct cleaning specialists clean your air ducts will greatly improve your indoor air quality since they will work to remove all the dander, dust, dirt, pollen, mold, fungi and other harmful contaminants from your home.
You will also save on energy costs by having professional duct cleaning services in your home. Cleaning the ductwork maximizes airflow in your heating and cooling system which means the system will be operating at optimal efficiency. This will significantly lower the energy consumption when the unit is running and as a result you will pay lower electricity bills.
Why Hire Our Duct Cleaning Specialists
State-of-the-art Tools – At AC Repair Palm Beach Gardens, we have invested in modern powerful tools to take care of any dust, dirt or any other debris your air ducts may have.
Highly Trained Technicians – Our technicians are highly and rigorously trained in all areas of HVAC including duct cleaning. They have the prowess and expertise to comprehensively clean your air ducts and rectify any problem that your cooling and heating system may be having.
Competitive Pricing – Our Palm Beach Gardens duct cleaning services are very affordable. We base our rates in tandem with the industry standards as well as the needs of our clients. Our services are highly customized to meet the specific needs of your home.
Our Cleaning Exercise Entails:
• Cleaning the air ducts as well as vent covers
• Checking for blockages in your ductwork that may be reducing energy efficiency of your system
• Removing mold and mildew from your indoor space
We always ensure that we do an excellent job within the agreed upon time. All our services come with a 100% service guarantee and as such you can rest assured that we will not leave your home until you are completely satisfied and happy with the work done.
Call us TODAY at (561) 232 –3741 or feel our contact form online and our top tier duct cleaning specialists will be there to serve you.