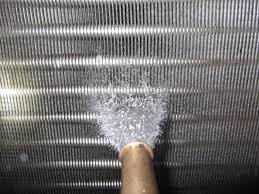 The overall efficiency of your heating, ventilation and air conditioning system is determined greatly by t he condition of your evaporator and condenser coils. Dirty coils significantly lower the efficiency of your HVAC system resulting in huge energy bills. In addition, dirty coils can cause breakdowns in your system as well as shorten its lifespan.
AC Repair Palm Beach Gardens is a well established and locally owned HVAC company in Palm Beach Gardens, Florida. We have been in the industry for over 10 years and as such we clearly understand the HVAC needs of people in Palm Beach Gardens. We have developed comprehensive coil cleaning solutions to cater for all our clients. Our happiness is to see that your HVAC system is operating in the most efficient manner. We are available 24/7 to ensure that we are available when you need our professional services.
Enhance Efficiency of Your System
The efficiency of your heating, ventilation and air conditioning system is determined to a greater extent by the cleaning of the coils. When the evaporator coil is clean, it takes warm air and transfers it to the condenser coil efficiently.
On the other hand, the condenser coil should be clean in order to disperse the warm air into the external environment efficiently. When these coils are dirty, the efficiency of your HVAC equipment drops significantly and this leads to skyrocketing of energy bills. It is therefore essential to have both the evaporator and condenser coils cleaned professionally at least once per year.
Prolong the Lifespan of Your HVAC System
Having your coils cleaned and serviced on a regular basis by AC Repair Palm Beach Gardens technicians will go a long way in prolonging the lifespan of your system. This is because when your equipment is running efficiently, it doesn't have to work extra hard to achieve the desired temperature. What this means is that it will always be in a good working condition and this preserves it enabling you and your family to enjoy its services for a longer period of time.
Enhanced Quality of Indoor Air
Dirty coils are a good breeding ground for mildew, mold, fungi, bacteria and other harmful contaminants. These contaminants will pollute your indoor air and can have health effects such as allergies, asthma and other respiratory problems. Having professionals clean your coils will greatly boost the quality of your indoor air ensuring that you are living in a clean and safe home.
In addition to coil cleaning, our NATE-certified technicians take time to professionally advice our clients in Palm Beach Gardens and its environs on how to take care of their air conditioning systems in order to prevent dirt, dust and other debris from clogging their coils. This way, their units will be running efficiently lowering monthly electricity bill and also they will enjoy quality indoor air.
For a FREE estimate or more information about our HVAC services, CALL US TODAY and our experts will attend to you speedily!