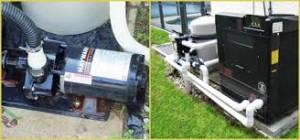 Having a pool in your home not only adds to its value but also to the comfort of your family. It gives you an ideal place to relax with your loved ones over the weekends after a hectic working week. However, in order to enjoy your pool throughout the year day and night, you need to ensure that your pool heating system is working perfectly well.
At AC Repair Palm Beach Gardens, we offer comprehensive pool heating solutions ranging from installation to repair and maintenance. We are a locally owned and operated HVAC company and as such we understand pool heating needs of people in Palm Beach Gardens and its environs. Our NATE-certified technicians will work with you to ensure that your system is operating at optimal efficiency and always recommend money saving solutions for your home.
Pool Heating System Installation
When you are shopping for a pool heating system, we will help you identify the most appropriate system based on the size of your pool, the type of your pool as well as your tastes and preferences. This is important to enable you make an informed purchase decision. Once you make the purchase of the equipment of your choice, our technicians will undertake expertise installation of your system. This is because we undertake the implication of poorly installed pool heating system.
Pool Heater Repair and Maintenance
Just like any other HVAC equipment, your pool heating system will start developing technical problems after some time due to constant usage. As such, you will require the services of an experienced AC Repair Palm Beach Gardens technician to handle the repairs.
Before commencing on any repair work, we first undertake an evaluation of the problem to establish the extent of damage and the parts that need fixing. We give you a free estimate and once you give us the go ahead, we do an excellent job to restore your system to its original efficiency. We have the capacity to handle all types of pool heating components including compressors and the heating elements.
Pool Heating System Replacement
As a homeowner, there are several reasons why you would want to replace your pool heating system including changing to a different brand or model or upgrading to a higher efficiency system. Whatever the case, our highly trained and experienced pool heating repair specialists will recommend the best system for your pool.
You can always rely on AC Repair Palm Beach Gardens technicians for fast and efficient pool heating solutions. We work with all renowned pool heating brands including AquaCal, Hayward, Jandy, Pentair, Rheem and Zodiac.
Call Us Now at (561) 232–3741 To Learn More Or To Schedule An Appointment. We Are Here to Serve You!