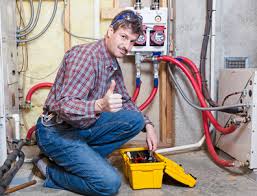 A heating system in your home plays a critical role especially on the chiller months of the year like winter. For a heat pump to serve you best, it needs to be in good working condition. An inefficient furnace will not only compromise the comfort of your home but also lead to huge energy bills. At AC Repair Palm Beach Gardens, we have a fully fledged department dedicated to handle all your heating repair needs.
Irrespective of the type of the heating system in your home, our NATE-certified technicians are well versed and experienced to handle it. They perfectly understand the functioning of the heating system and all its components including the condenser unit, the evaporator coil and the refrigerant. They therefore handle furnace installation, repair and maintenance with clarity, confidence and accuracy.
Heat Repair Services
Whether your heat pump stops working in the middle of the night or at the wee hours of the morning, you should not worry because our highly trained and experienced technicians will be there to serve you. We operate 24/7 including public holidays and as such you can always find us when you are in need of our services. We will do a comprehensive evaluation of your system before commencing on any repairs to ensure that we will get it right the first time.
Heat Pump Maintenance Plan
Apart from emergency repair services, at AC Repair Palm Beach Gardens we also have scheduled maintenance plans to ensure that your heating system is always working at its peak efficiency. We have different plans to cater for various needs of our Palm Beach Gardens clients; there is something for everyone irrespective of your budget.
The best thing with our scheduled maintenance plans is that they are competitively priced and guarantees you 24/7 coverage on your heating system. Heat pumps that are regularly serviced have a prolonged lifespan and use lower energy to operate which saves you money in terms of low energy bills. When your heating system is properly maintained, it simply runs more efficiently.
Being a fully insured HVAC company, all our services come with a 100% satisfaction guarantee. This gives you peace of mind knowing that you will get the best value for your money and the technicians will not leave your home until you are fully satisfied with the work done.
Why Work with Us
Competitive Pricing – Our services are quality yet come with unbeatable process in the market. This is possible because we partner with all the renowned brands in the market and as such carry their warranties on parts. When you have a valid warranty, you don't have to spend much money on repairs because the warranty will take care of this.
Qualified and Competent Technicians – We invest in training and equipping our technicians with the latest technologies so that they can deliver quality services. Our workmanship is structured in such a way that there is a specialist for every heating, ventilation and air conditioning niche.
Excellent Services – We are the number one choice in Palm Beach Gardens for maintenance, repair and installation of heating systems because of the quality of services we offer. We do all that we can to ensure that your system is working efficiently and effectively.
We are just a phone call away! Give us a call at (561) 232–3741 for a FREE estimate on Heat Repair Services and our experts will serve you promptly!